---
---
Very few parts mean as much to the health and longevity of your vehicle as your brakes. So, you'll need a reliable source to turn to for all your brake service needs. Whether you're in for a simple inspection or extensive brake repair, you can always rely on our service center at Jaguar Parsippany.
To ensure your next adventure around Parsippany, Morristown, and Newark, NJ, is a safe one, contact us to schedule your next Jaguar brake service today!
---
​
How Often to Get Jaguar Brake Service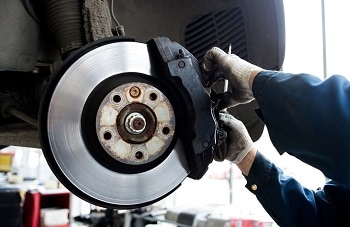 Keeping track of your vehicle's brake health isn't always easy. That doesn't mean, however, that there aren't ways to monitor and track the longevity and condition of them.
The lifespan of brakes will always vary from vehicle to vehicle. Not only does it depend on your vehicle's make and model, but it also differs based on the type of car you drive. For example, someone who drives an SUV may see more significant brake wear than someone who owns a sedan.
Another factor that determines how often you need brake service is your driving habits. If you drive every day and in more stop-and-go situations, your brake condition is likely to deteriorate much faster than someone who only drives a few times a week.
You can always turn to your vehicle's owner's manual to find out how long your car's brakes are designed to last. Most brakes are typically manufactured to last anywhere between 20,000 and 65,000 miles but, once again, that'll vary depending on the car you drive and how you drive it.
---
Signs to Get Jaguar Brake Service
Luckily, there are also some fairly obvious signs that your brakes may have hit the end of their road. You'll most likely notice an indicator light on your dashboard before you actually notice one of these signs, but they're still important to look out for.
Some signs you should have your brakes inspected or repaired include:
Unresponsive brakes
Strange grinding or squeaking noise
Odors or burning smell
Vibrating brake pedal or steering wheel
Steering wheel or vehicle pulling to one side
If you notice one of these signs when you apply pressure to the brake pedal, you should have your brakes inspected or repaired as soon as possible.
---
Where to Get Jaguar Brake Service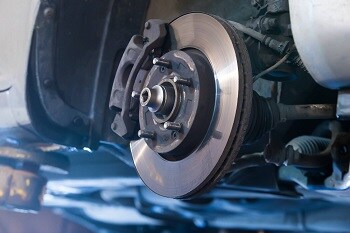 You can always turn to our Jaguar service center for whatever your brakes need. Whether they just need a simple inspection or a more extensive fix, our certified and factory-trained technicians are equipped to handle it.
For any and all brake repairs, our team uses only genuine Jaguar parts, and those that were used in the original design of your vehicle. We also make these original equipment manufacturer (OEM) parts available for purchase through our parts department.
From brake pads to brake rotors and everything in between, you can find it all with our parts department. Just fill out our online order form, and we'll have your parts ready for pickup as soon as we have them available and in stock.
---
Brake Service at Jaguar Parsippany
When your Jaguar is in need of brake service, you can always rely on our team at Jaguar Parsippany. Parsippany, Morristown, and Newark, New Jersey, drivers can contact or visit us today to schedule their next brake service appointment. 
---