The Jaguar F-TYPE is the perfect sports car for drivers in Parsippany, Morristown, and Newark, NJ. Its bold style stands out and it offers an exciting drive. To show you what it's capable of and how it feels to get behind the wheel, Jaguar Parsippany examines the 2020 Jaguar F-TYPE dimensions.
Jaguar F-TYPE Design & Dimensions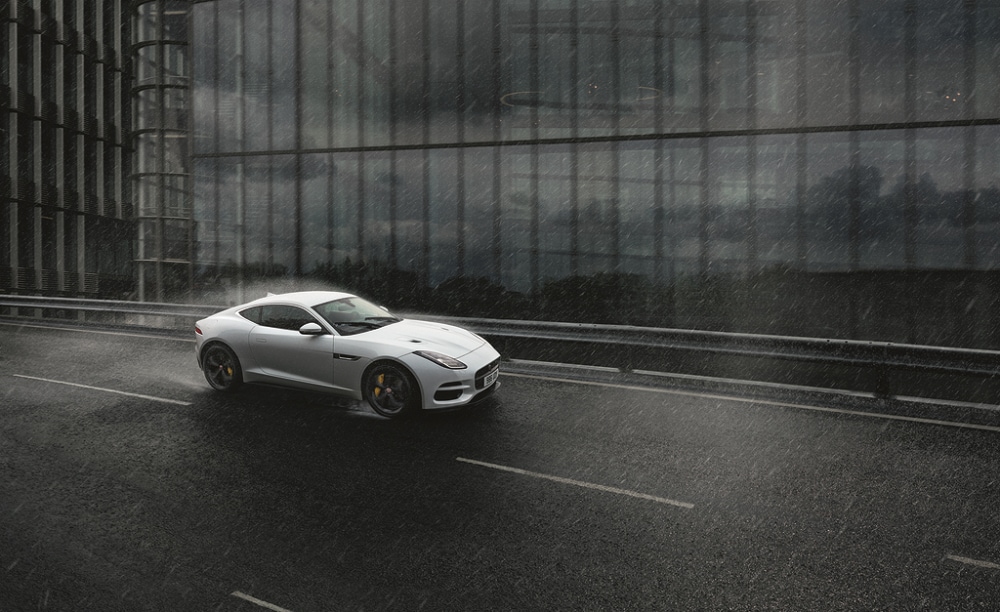 The Jaguar F-TYPE is available as a sleek coupe and a sporty convertible. Both styles come with a large black mesh grille and aerodynamic accent lines running up the hood and along the sides. It's able to cut through any wind resistance and look sharp doing it. There are strategically placed air vents up front, on the sides, and on top of the hood.
While the rounded edges reduce drag, the F-TYPE has a low center of gravity and a balanced, lightweight frame that helps it fly down the road. It's 176.5 inches long and 80.4 inches wide. The convertible and its cloth top stand 51.5 inches high, while the coupe's hardtop makes it 51.6 inches tall.
Both models sport a 62.9-inch wheelbase. This allows you to take tight turns, pull a U-turn in a small space, and grip the road. While they both sit low, the 3.9-inch ground clearance helps improve the F-TYPE's airflow. Plus, its 4,244-pound curb weight gives it nimble handling and helps it get off the line in a hurry.
F-TYPE Sleek Cockpit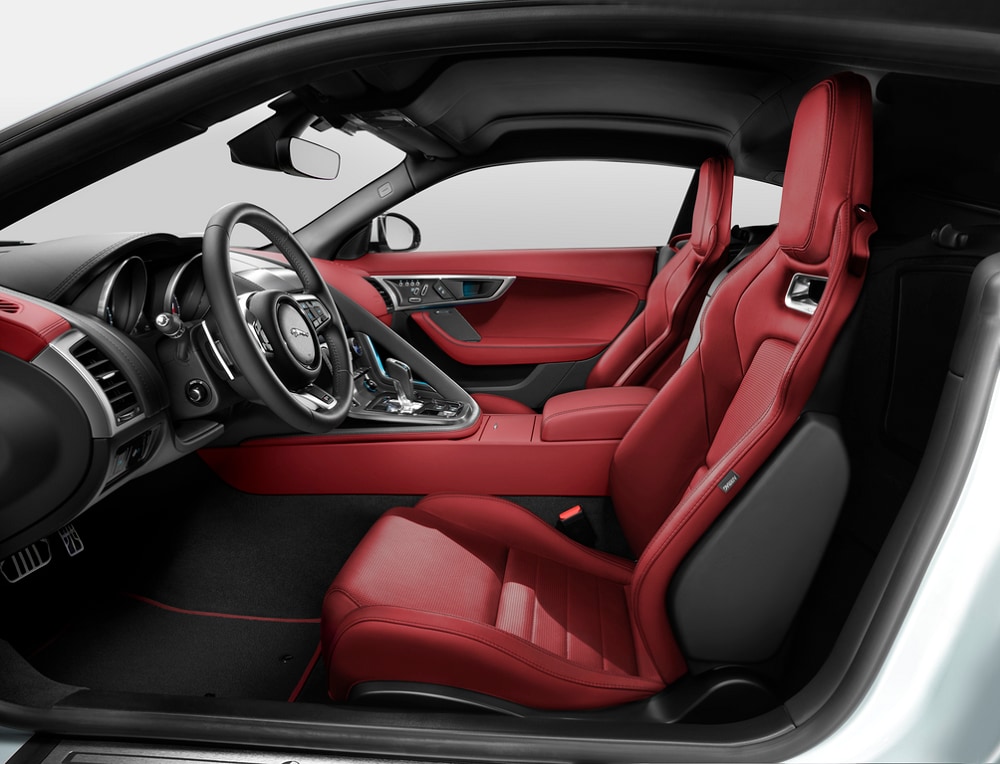 When you step inside this stylish two-seater, the Jaguar F-TYPE welcomes you with fine leather seats, a leather-wrapped steering wheel, and configurable ambient lighting. In the middle, you'll find a wide, comfortable armrest, leather-wrapped gear shifter, and a touchscreen in the dashboard.
Power-adjustable seats come standard, and there's plenty of room to relax. Both the coupe and convertible come with 42.8 inches of legroom. The hardtop has 36.8 inches of headroom. While the convertible lets you feel the breeze while you drive, you'll still have 37 inches of headroom with the top up.
The convertible's soft roof is stored behind the cabin. If you see storm clouds on the horizon, you can quickly press a button and automatically put the top up in only 12 seconds. You'll also find some storage space with 7.3 cubic feet of cargo room. The coupe can carry a little more with 14.4 cubic feet of trunk space.
F-TYPE Athletic Performance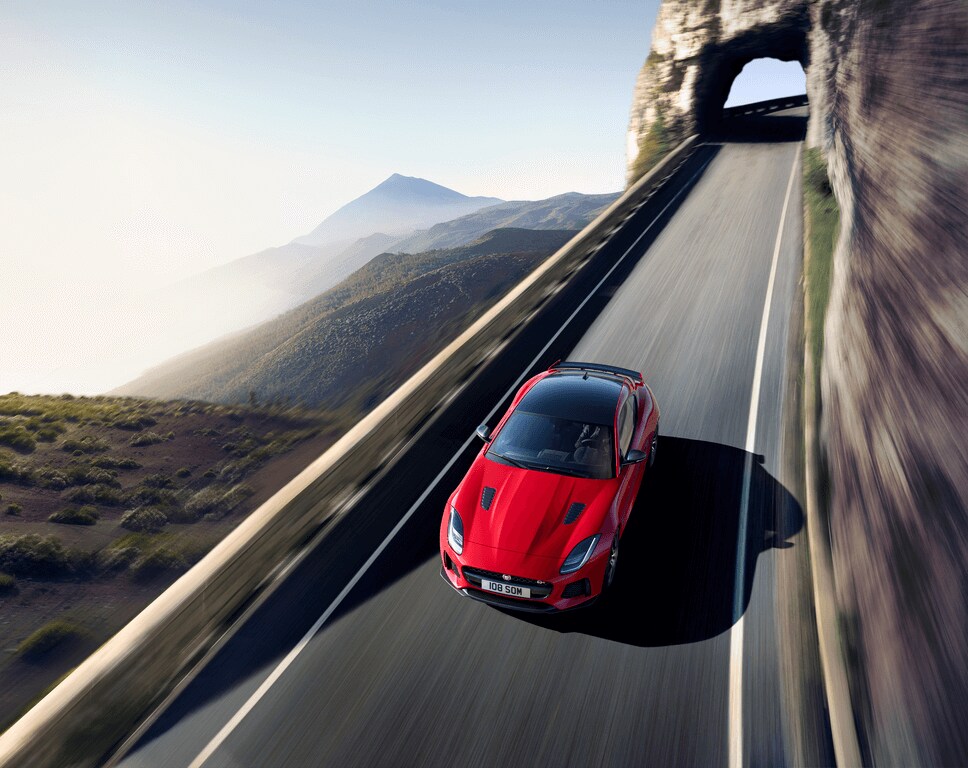 In addition to its breathtaking looks and comfortable cabin, the Jaguar F-TYPE offers an exhilarating drive. Its performance-inspired design lets it pull off a 35-foot turning circle. That gives you the freedom to maneuver in tight spaces.
You'll also be able to accelerate quickly. The F-TYPE offers six athletic engines to choose from. The base engine is a turbocharged 2.0L 4-cylinder that gets up to 296 horsepower and 295 lb-ft of torque. It can go from 0 to 60 MPH in only 5.4 seconds. At the other end of the spectrum, the most powerful engine available is a supercharged 5.0L V8 that delivers a pulse-pounding 575 horsepower and 516 lb-ft of torque. This engine can go from 0 to 60 MPH in just 3.5 seconds.
Test Drive the Jaguar F-TYPE
Visit Jaguar Parsippany to learn more about the 2020 Jaguar F-TYPE dimensions and take a test drive. Whether you're interested in a coupe or convertible, it delivers a fun, stylish drive around Parsippany, Morristown, and Newark, NJ.