Did you know you could elevate the air quality in your vehicle by performing a simple task once a year? Every vehicle is equipped with a cabin air filter and replacing it is a part of your vehicle's regular maintenance schedule. However, this aspect is often forgotten about. But don't worry, Jaguar Parsippany is here to tell you all about it.

Below, you will find more information about what this component does, when to change your cabin filter, and why it's important. This way, your drives in the Parsippany, and Morristown areas can be full of cleaner air, allowing you and your family to breathe easy.  Contact us today for more information!
What is a Cabin Filter?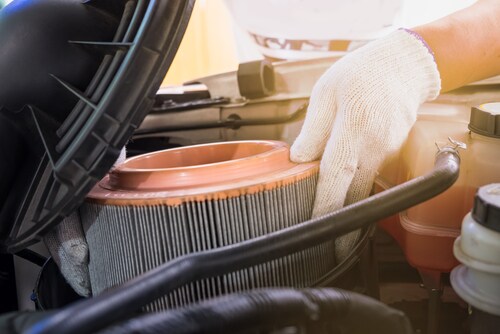 Simply put, your cabin's air filter keeps the air inside your vehicle clean. When you're driving, your vehicle is subject to some serious dust, dirt, and pollution. But with a clean filter in place, you don't have to worry about breathing that in.
The air filter is typically located behind your glove compartment. It does its job by filtering all the air that enters your vehicle using a handy HVAC-type system. This catches pollutants, dust, pollen, smog, and mold spores from gaining access to your cabin. This system can even grab hold of small debris, leaves, and rodent droppings!
But over time, much like your air filter in your home's AC unit or the water filter in your fridge, it becomes full and dirty.
The Importance of Changing Your Cabin's Air Filter
When your cabin air filter becomes dirty, it does not work as effectively as it should. This results in all that dust, pollen, and pollutants from entering your cabin and into the air you breathe. This could be potentially harmful to people with asthma and bad allergies.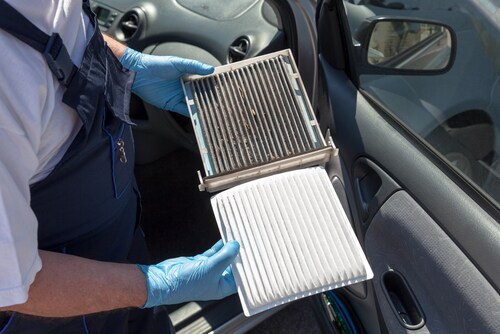 Besides contaminating the air inside your vehicle, it can even affect how your car runs. When the filter is dirty, your AC will work harder to compensate, leaving your engine to possibly overexert itself.
When to Change Your Cabin Filter
Luckily, the aforementioned issues are completely preventable! All you need to do is change your air filter when recommended. Changing your cabin filter every 15,000 to 25,000 miles is a good habit to get into to prolong your vehicle's lifespan, as well as keep the air fresh inside of your vehicle.
However, every vehicle is made differently. Your owner's manual will provide an exact recommendation for your specific model.
Get Your Cabin Filter Changed at Jaguar Parsippany
Changing your air filter in your cabin might be a hefty undertaking, but the professionals at our industry-leading service center can handle the job for you! All you need to do is schedule an appointment, and your vehicle will be full of fresh air in no time. Our team proudly services the Parsippany, Morristown, and surrounding areas. We hope to see you soon!