No matter how well your car is running, at some point in time you'll wonder, "Where can I find the right service department near me?" If you need service or maintenance near Madison, Morristown, or Newark, head to the service center at Jaguar Parsippany. We offer everything from inspections and maintenance to major service and repairs, so your luxury car or SUV can keep running at peak performance, no matter how many years you've owned it.
Certified Jaguar Technicians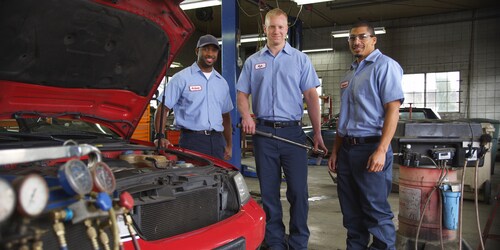 Our service center is proud to have a team of certified Jaguar technicians. They're all highly trained and have years of experience working on everything from used luxury sedans to the latest electric SUVs. That level of experience and training helps them quickly and accurately diagnose any problems or signs of wear and tear. That means, if you're stopping by for an inspection, a service problem, or recently been in an accident, they'll get your Jaguar looking and driving like new again in no time.



The Best Technology
Not only do we field a team of the highest quality technicians, but we also work from a state-of-the-art repair bay that utilizes the very best technology on the market. Regardless of what the problem is, whether it's a routine oil change, inspecting your suspension, or a problem that requires major repair work, we can diagnose the exact issue and get it taken care of quickly and efficiently.
Any Job, Any Size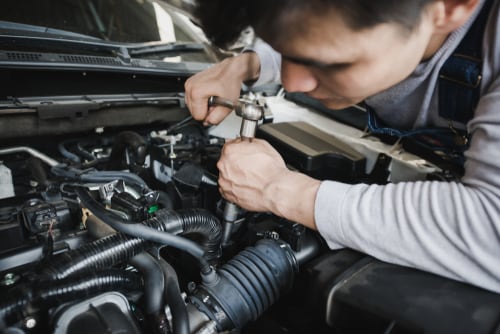 Whether your Jaguar needs a simple oil change and tire rotation or major work done to its engine or transmission, our dealership is ready to assist you and your ride. Even recall fixes, warranty repairs, and post-accident repairs are no match for our service center We can handle all sorts of jobs and get you back on the road quickly and running like new. From transmission work to exhaust systems to spark plugs, computer repairs and more, we'll take care of the problem to get you driving again soon.

Genuine Jaguar Parts
One of the ways our technicians help you get the most out of your vehicle is by using genuine Jaguar parts and accessories. Using OEM parts ensures that your car or SUV isn't running on some generic parts, but on parts that were made specifically for your model. That way, you'll know exactly what's under the hood and be able to stick to your recommended maintenance schedule.
The Importance of Routine Maintenance
One of the most important jobs we perform is regular routine maintenance. Underneath their stylish design, each and every Jaguar features a performance-inspired powertrain. By getting maintenance on a regular basis, you'll be able to get the best performance out of your luxury car or SUV.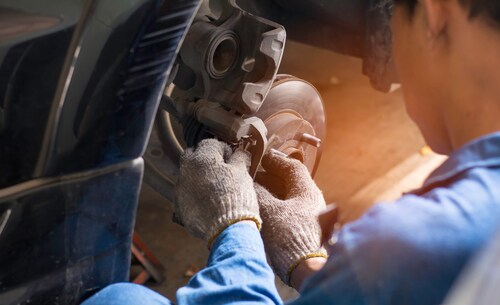 Sticking to your recommended maintenance schedule can be the difference between a car that runs like new for over 100,000 miles, and the need to buy a new vehicle after only 50,000 miles. Every vehicle has its own schedule. Following yours is essential to keeping your vehicle on the road and in good condition for as long as possible.

The exact schedule you'll need to follow for Jaguar maintenance depends on the year and model of the vehicle you drive. Generally, it involves such things as regular oil changes, checking your fluid levels, rotating your tires and your brakes, and a visual inspection to make sure everything is operating safely and working like it was designed to.
As you put more miles on your vehicle and climb up the odometer, we'll check other things like your spark plugs, the condition of your battery, and even your hoses and belts to be sure that you don't encounter any problems from wear and tear.
Our goal is to make sure you're happy with your Jaguar for years to come. We'll do that by keeping you on track with your regular maintenance and inspections.
Jaguar EliteCare
One of the perks of buying a new car is that they usually come with a warranty. Jaguar cars and SUVs are no exception. To make sure your new vehicle is taken care of, every new model we sell comes with Jaguar EliteCare. This 5-year/60,000-mile warranty covers both your basic maintenance and provides you with roadside assistance. Class is cars sold by luxury automobile brands and claim is based on package of warranty and maintenance programs. For complete details regarding Jaguar EliteCare coverage, including the new vehicle limited warranty and maintenance coverage, please visit JAGUARUSA.COM, call 1.800.4.JAGUAR / 1.800.452.4827, or visit your local authorized Jaguar retailer.
Think of it as our way of lending a helping hand and thanking you for shopping with us. It's a great way to make sure you stop by for maintenance when your car is fresh off the assembly line and set the foundation for long-term success. 
Schedule Your Appointment at Jaguar Parsippany Today!
If you've noticed any service issues, been in an accident, need a part repaired, or you're just due for maintenance or an inspection, schedule an appointment with us online. At Jaguar Parsippany, our team of technicians is committed to helping drivers in Parsippany, Morristown, and Newark get great long-term performance out of their luxury car or SUV.