When you're driving through Manhattan, you want to be checking out everything the city has to offer. When one of those lights on your dashboard comes on, it can be helpful to know what it means, especially when you're trying to find the hot new restaurant in Edison or Newark.  A happy hour in your Jaguar XE in Madison or Morristown should be just that! 
At Jaguar Parsippany, we want our drivers to be focused on what is most important, which is their enjoyment of their vehicles and the anticipation of the drive ahead.  For this reason, we have created a super detailed, yet easy to understand, guide to what those little lights mean when they show up on your dash.
Jaguar XE Dashboard Lights: What Do They Mean?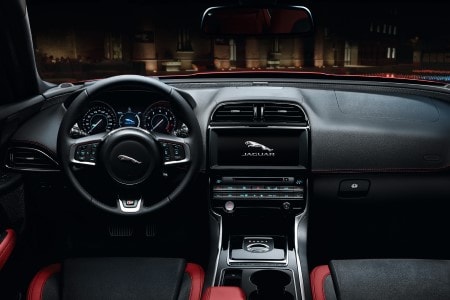 When you see a light pop up on your dashboard, it doesn't necessarily mean something is wrong.  In fact, Jaguar has developed a system for their drivers to better understand what constitutes an issue and what is just an awareness feature.  These different displays use a color-coded system so drivers can get the gist of what their car is trying to tell them.
Decoding the Dash
Green: Feature Awareness
Lane Departure Warning - If you notice a green illumination that looks like two dotted lines with a tiny car in between them, this is an indicator that your Lane Departure Warning system is active.  
Cruise Control - If your car feels a little bit like it is driving itself, check for an indicator that looks like a small clock with a downward arrow at the top of it.  This means you've turned on your cruise control and the car is set to a certain speed.
Auto High Beam Assist - You may notice the typical high beam symbol that looks a bit like capital D with several lines behind it, this means your high beams are on. However, if you see the word AUTO underneath that, it means you've activated the Auto High Beam Assist, so your lights are probably adjusting on their own.
Amber: Warnings
Adaptive Speed Limiter - If you're going downhill and your Jaguar XE feels a bit sluggish, there's likely a reason for that.  If you notice a small light with the word LIM under it, it means that the Adaptive Speed Limiter has been turned on and that is potentially why your car seems to be driving differently.
Check Engine - If you see a small illuminated engine pop up on your dash, this is the Check Engine light and while it may sound serious, it typically is indicative of an emissions issue.  Certainly, get it checked out, but don't worry.
External Temperature - If you see a snowflake, your car isn't predicting the weather. It is simply indicating that the outdoor temperature has reached a level during which ice could be present on the roads and it is encouraging you to be aware.
Red: More Pressing Warnings 
Lane Departure Warning - This is different from the indicator that your system is active. If you see a tiny depiction of a vehicle veering outside the dotted lines, this means your car has left its designated lane. 
Electronic Parking Brake - If you see the word PARK light up the dash, then this means your Electronic Parking Brake is active.  So, if you've parked at an impressive incline or if your car is acting strangely, look for this light.  It will either tell you that you've correctly applied the brake or you forgot to take it off.
Battery Charge - A tiny little box with a plus and minus sign inside indicates an issue with the battery charging system.  While this light is expected to come on when the ignition is first fired, it should go out. If it doesn't, something needs to be checked urgently.
Need Service?  We Can Help.
If you've noticed an amber light or a red light on your vehicle, at Jaguar Parsippany we can help you decode what it means in our service department.  The only red lights you should be seeing are those in your rearview mirror as you travel through Newark, Morristown, or Madison. Let us help turn them out by scheduling service today.