If you've been behind the wheel and ever noticed an unfamiliar light illuminate on the dashboard of your Jaguar, this page is for you!
Jaguar E-PACE Dashboard Light Guide
Jaguar F-Type Dashboard Light Guide
Jaguar F-PACE Dashboard Light Guide
Jaguar XE Dashboard Light Guide
Here at Jaguar Parsippany, we're committed to helping our drivers in Madison, Morristown, and Edison, NJ, have the best lease or ownership experience possible. So, whenever our experts can play translator to help you better understand your vehicle, we're ready to do so.
Our Jaguar dashboard symbols guides do just that in the form of an easy-to-scan model-specific page that details numerous light symbols, what they mean, and what action you should take.
What is Your Dashboard Trying to Tell You?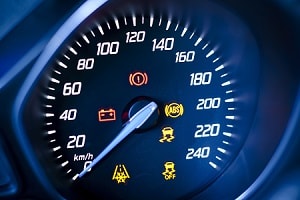 Between you and your Jaguar systems under the hood, your dashboard is the common denominator. If something's not quite right, you can expect to see that communicated on the surface just beyond your steering wheel.
Not all dash lights require a service visit. Some simply signify that a system is on and active. Knowing which color points to which type of issue can help you understand what (if any) action is required.
Green, Blue, or White dashboard lights are used by auxiliary systems like the head lights or adaptive cruise control system to indicate that a feature is on or ready.
Amber-colored dashboard icons are a bit more pressing. These little lights require action to be taken soon. For example, your Jaguar Tire Pressure Monitoring System may have sensed that one or more tires are low on air.  
Red dash lights require immediate action. If you see one of these, such as the brake warning light, proceed with caution to your nearest service provider.
Find the Dashboard Light Guide for Your Jaguar Model
To help you learn about the key dash lights that can turn on in your Jaguar sports sedan or SUV, our team created the handy digital guides you'll find on this page. Simply click on the link to your Jaguar model's guide, whether that's the F-PACE, E-PACE, or XF to learn more.
Should you need service or have any questions, our team is on stand-by! We're always happy to help drivers from Newark, NJ, provide excellent care for their vehicles.